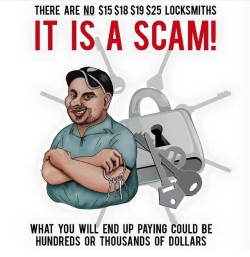 You've locked yourself out of your car or your home, so you call a locksmith, perhaps the one you find in a phone book or on Google ad words. But don't be so quick. In what has been dubbed the locksmith scam, some unscrupulous locksmiths promise low prices by phone and then jack up the cost when they arrive.
The Better Business Bureau earlier this year warned about the scam, which has been going on for years but is showing signs of becoming more prevalent.
In some instances, the companies advertising these locksmith services go by names similar to those of local companies and use local phone numbers and bogus addresses. But the calls actually go to call centers in another city, warns the Federal Trade Commission. The locksmith, who might be poorly trained, sometimes arrives in an unmarked vehicle and demands significantly more than the price quoted over the phone. Payment often must be made in cash. Frustrated consumers, eager to get into their homes or cars, often end up paying anyway.