Freshly added deadbolt. If your looking for an extra security feature, we at All City Locksmith would definitely recommend a fresh deadbolt. This is a great way to make your front door kick in proof by 50%.
We charge a flat rate of $120 to do this feature plus cost of hardware. We carry and sell master lock hardware or you can supply your own.
We drive to your location on a First come first serve basis. We can also book a future appointment.
Whether you need your Locks Rekeyed or replaced. We at All City Locksmith provide excellent customer service and great rates.
When you need a Locksmith you can trust. Call All City Locksmith of Rancho Cucamonga today.
We Rekey Euro Style Cylinders. If you have a home and did not receive your French door keys. We can generate a working key within minutes. We get a few calls a week regarding Euro Profile Cylinders and can assist. Rekeying a Euro Cylinder is also a great idea if your moving into a new home. There can literally be dozens of unwanted keys floating around from contractors to realtors. Call us and we can help.
When you get your home Rekeyed by us. We will restore your door hardware free of charge if needed. We will also grease and lubricate your locks. When you choose All City Locksmith you are choosing quality worksmanship and great rates. We a fully bonded, licensed and insured from the state of California. We are the only company that has a No Scams or Hidden fee policy. The price you are given over the phone is the price you pay. Call All City Locksmith today for All Your Key needs.
We specialize in Lost Harley Davidson key Replacement for only $65. We can get you back on your bike in no time. We will drive directly to your bike and make a key on the spot. We can also provide duplicates if needed. We are Rancho Cucamonga's most trusted locksmith for 10 years now. When you need an honest locksmith that will never take advantage of customers by raising the cost than call All City Locksmith for All your key needs.
Fresh Deadbolt Installation available. We can add an extra boost of security to your front door, bedroom door or even commercial door. Give us a call and we will give you can unbeatable price. We carry master lock deadbolts or can install your custom deadbolt. We are located in Rancho Cucamonga and serve a 20 mile radius from our location. Give us a call for your key needs.
When you choose All City Locksmith to Rekey your home or business. We go the extra mile to lube your locks, polish if needed. We hand you a new pair of keys and the older keys will no longer work. We are committed to quality service and great rates. Call or book your appointment online.
We cut and Program transponder keys. If you lose your auto keys or need an extra copy. Give All City Locksmith a Call. We can cut and Program 90% of today's Vehicles and Program the remote heads also. Here is a list of cars we can make keys for, Acura, Ford, GM, Chevy, Nissan, Toyota and Hello more. We have the technology to cut a working key off the vin number. We arrive at your place with a working key already to go. We then hook up our auto key programmer to your cars obd port and the Programing can take about 12 minutes. You will then be on your way with a new working key. We can also clone some late 90s to mid 2000 transponder Keys for a fraction of the cost. When you call us in a lost key situation, all we need is a
Little information. It's easiest if you text us the vin number, license plate number, registered owners name and address. We input the information onto a NASTF affiliated website which allows us to retrieve a key code. With that key code, we bring the blank key to our high security laser key machine. We punch in the magical code and a key is cut. We drive to you with the key already cut and ready to be programmed. Prices range from $80-$180 depending on the year make and model. We can give you an upfront cost over the phone. Keep in mind that there are Locksmith's out there that give you a low price over the phone and the gouge you when they get to the job site. This is something that All City Locksmith is against. That is why we are the #1 locksmith in  Rancho Cucamonga.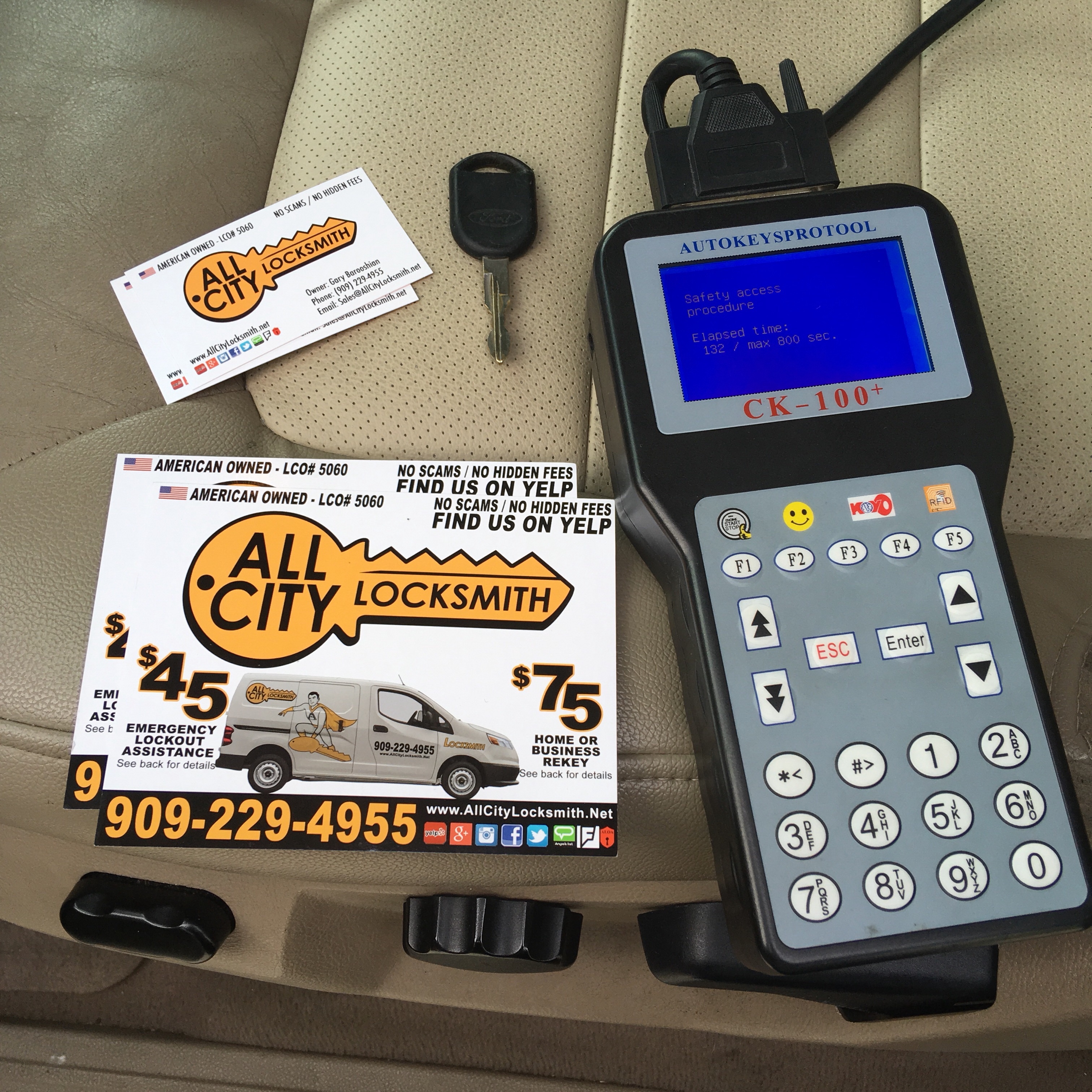 We now cut and stock Schlage S123 High Security Keys and can special order Schlage High Security Locks. Call All City Locksmith of Rancho Cucamonga if you have any questions. We can drive to your place and even cut and test each key to make sure they operate correctly.
Broken Sliding Glass Door lock repaired. If this ever happens to you give Rancho Cucamonga's Favorite Locksmith a call first for an upfront price you can't refuse. We drive to you to make your life easier. We can fix a wide variety of locks. So, instead of buying new hardware, give us a call. We can also Rekey almost any lock on the market too at a great price. If a locksmith tells you that your locks can't be Rekeyed, they are most likely a con artist. Give us a call right away and we will be there. We have been serving the inland empire for almost 10 years and have become a house hold name. If you haven't used our services, please give us a try. We will give you the best price and never try to upsell you on any expensive hardware.
We can literally unlock any vehicle on the road. Including the good old Mercedes. We open the doors but don't handle anything else but will give you some advice on what to do next. YouTube is a great help at certain things and has had a huge advantage of some advanced skills that never get old.